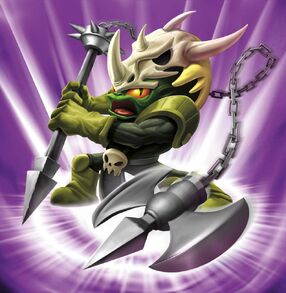 Voodood is an orc warrior who is one of the 32 main Skylanders in Skylanders: Spyro's Adventure.
Biography
Edit
A highly decorated soldier of his people, Voodood once commanded a well-known team of dangerous warriors. After becoming its last living member, he joined the Skylanders. Ever since he was a young orc, Voodood has collected rare and interesting bones that he uses to create weapons and devices - his favorite being the grappling hook, which grants him tremendous agility in combat. When not fighting evil, he is constantly searching for new and exotic bones to expand his collection..
Ad blocker interference detected!
Wikia is a free-to-use site that makes money from advertising. We have a modified experience for viewers using ad blockers

Wikia is not accessible if you've made further modifications. Remove the custom ad blocker rule(s) and the page will load as expected.