Trigger Happy is a gremlin gunslinger Skylander in Skylanders Spyro`s adventure.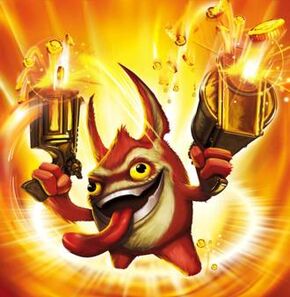 Biography
Edit
Trigger Happy is more than his name -- it's his solution to every problem. Nobody knows from where he came. He just showed up one day in a small village, saving it from a group of terrorizing bandits by blasting gold coins everywhere with his custom-crafted shooters. Similar tales were soon heard from other villages, and his legend quickly grew. Now everyone in all of Skylands knows of the crazy goldslinger that will take down any bad guy... usually without bothering to aim.
Ad blocker interference detected!
Wikia is a free-to-use site that makes money from advertising. We have a modified experience for viewers using ad blockers

Wikia is not accessible if you've made further modifications. Remove the custom ad blocker rule(s) and the page will load as expected.