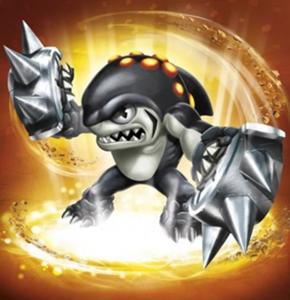 Terrafin is a dirt shark who is one of the playable Skylanders in the Skylanders series.
Biography
Edit
Terrafin hails from The Dirt Seas, where it was common to swim, bathe, and even snorkel beneath the ground. But a powerful explosion in the sky created a blast wave that turned the ocean of sand into a vast sheet of glass, putting an end to Terrafin's duty as the local lifeguard. Not one to stay idle, the brawny dirt shark found himself training in the art of boxing, and not long after, he was local champ, earning treasure by competing in local battle arenas. Fighters came from all around to challenge him, but it was a chance meeting with a great portal masterthat led him to give up his title for a greater purpose.
Ad blocker interference detected!
Wikia is a free-to-use site that makes money from advertising. We have a modified experience for viewers using ad blockers

Wikia is not accessible if you've made further modifications. Remove the custom ad blocker rule(s) and the page will load as expected.