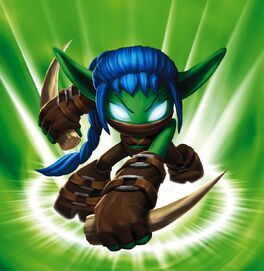 "
Silent but deadly"
-Stealthelf's official catchphrase
Stealth Elf is a elven ninja who is one of the 32 main Skylanders in Skylanders: Spyro's Adventure.
Biography
Stealth Elf was separated from her parents when she was very young, and was taken-in by an unusually stealthy, ninja-like tree creature in the deep forest. Under his tutelage, she has spent the majority of her life training in the art of stealth fighting. After completing her training, she became a Skylander and set out into the world to uncover the mystery behind her origins.
Ad blocker interference detected!
Wikia is a free-to-use site that makes money from advertising. We have a modified experience for viewers using ad blockers

Wikia is not accessible if you've made further modifications. Remove the custom ad blocker rule(s) and the page will load as expected.