Slam Bam is a blue yeti Skylander who first apperared in Spyro's Adventure.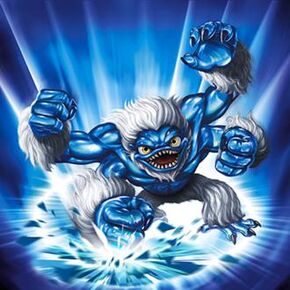 Biography
Edit
Slam Bam lived alone on a floating glacier in a remote region of Skylands, where he spent his time ice surfing, eating snow cones, and sculpting amazing ice statues. It was a peaceful life, until Kaos destroyed the glacier, stranding Slam Bam on an iceberg that drifted through the skies for days. He awoke on Eon's Island, where he was taken in and trained to become a Skylander. Now his ice sculptures serve as a frosty prison for any evil-doer that gets in his way.
Ad blocker interference detected!
Wikia is a free-to-use site that makes money from advertising. We have a modified experience for viewers using ad blockers

Wikia is not accessible if you've made further modifications. Remove the custom ad blocker rule(s) and the page will load as expected.