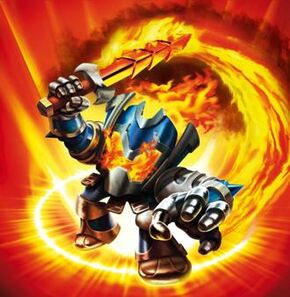 Ignitor is a fire spirit knight Skylander in the Skylanders series, first appearing in Skylanders Spyro's Adventure.
Biography
Edit
On his first quest as a knight, Ignitor was tricked by a cunning witch into wearing a magical suit of armor that he was told would resist fire from a dragon. But as it turned out, it was made of cursed steel. He journeyed to a dragon's lair where a single blast of fire transformed him into a blazing spirit, binding him to the suit of armor for eternity. Despite this setback, Ignitor remains a spirited knight who is always fired up to protect Skylands from evil… and find the witch that tricked him.
Ad blocker interference detected!
Wikia is a free-to-use site that makes money from advertising. We have a modified experience for viewers using ad blockers

Wikia is not accessible if you've made further modifications. Remove the custom ad blocker rule(s) and the page will load as expected.