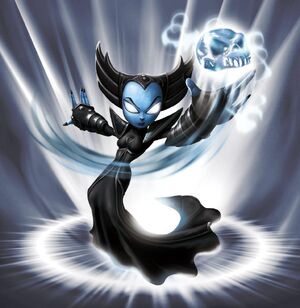 Hex is a dark elf necromancer who is one of the main 32 playable Skylanders in Skylanders: Spyro's Adventure.
Biography
Long ago, Hex was a gifted and powerful elven sorceress who traveled deep into the Underworld to confront the Undead Dragon King named Malefor, who made several attempts to capture her to learn her secrets. Though she successfully battled the dragon and wounded him terribly, Hex returned from the underworld changed – having unwillingly joined the ranks of the Undead. Many are wary of her since her transformation, suspecting she has used her powerful magic for evil purposes. But Eon trusts her, and views her as a most valuable Skylander ally. It has been said Hex has laughed only once since her transformation -- apparently at an incident involving Trigger Happy, Slam Bam, and a gold coin in the rear end.
Ad blocker interference detected!
Wikia is a free-to-use site that makes money from advertising. We have a modified experience for viewers using ad blockers

Wikia is not accessible if you've made further modifications. Remove the custom ad blocker rule(s) and the page will load as expected.