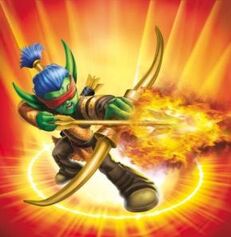 Flameslinger is an elven archer who is one of the main 32 playable Skylanders from Skylanders: Spyro's Adventure.
Biography
Edit
Flameslinger is an Elven archer with incredible aim. In fact, he is so good that he wears a blindfold just to prove it. When he was young, he rescued a fire spirit from a watery doom and was gifted an enchanted bow and magical fire boots that he now masterfully uses to defeat evil throughout Skylands. With the scorched earth he leaves behind, you can always tell where he has been.
Ad blocker interference detected!
Wikia is a free-to-use site that makes money from advertising. We have a modified experience for viewers using ad blockers

Wikia is not accessible if you've made further modifications. Remove the custom ad blocker rule(s) and the page will load as expected.