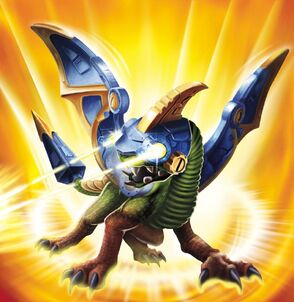 Drobot
is a dragon wearing a robotic-suit and is one of the 32 main
Skylanders
in
Skylanders: Spyro's Adventure
.
Biography
Dragons are smart, but none so much as Drobot. He was born in the highest reaches of Skylands, where dragons spent all their time competing in aerial battles. But Drobot was more interested in taking things apart to see how they worked. While exploring one day, he came upon some mysterious technology, which he used to assemble a robotic suit. Features include laser beams that shoot from his eyes, flight enhancement technology, a vocal synthesizer that gives him a deep booming voice, and the ability to shoot spinning gears. With such power – more than most other dragons – Drobot joined the Skylanders to help protect the residents of Skylands.
Ad blocker interference detected!
Wikia is a free-to-use site that makes money from advertising. We have a modified experience for viewers using ad blockers

Wikia is not accessible if you've made further modifications. Remove the custom ad blocker rule(s) and the page will load as expected.