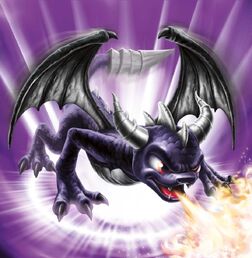 Dark Spyro
is the dark counterpart of
Spyro
. He is available exclusively in the 3DS Starter Pack of
Skylanders: Spyro's Adventure
.
Biography
Spyro is a rare magical dragon with the ability to harness the power of the other elements, though he prefers to master fire. However, this innate power also leaves him vulnerable to the influence of dark magic. When The Darkness is nearby, Spyro can channel its energy and combine its power with his own, becoming Dark Spyro. Over the years, he has learned to focus and control his power, using this dark magic to fight the forces of evil.
Ad blocker interference detected!
Wikia is a free-to-use site that makes money from advertising. We have a modified experience for viewers using ad blockers

Wikia is not accessible if you've made further modifications. Remove the custom ad blocker rule(s) and the page will load as expected.