Ad blocker interference detected!
Wikia is a free-to-use site that makes money from advertising. We have a modified experience for viewers using ad blockers

Wikia is not accessible if you've made further modifications. Remove the custom ad blocker rule(s) and the page will load as expected.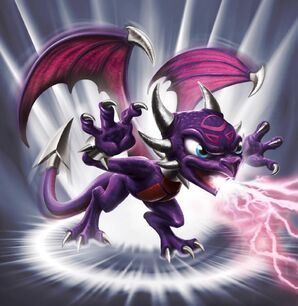 Cynder
is a violet dragoness who is one of the 32 main
Skylanders
in
Skylanders: Spyro's Adventure
.
Biography
While just an egg, Cynder was stolen by the henchmen of an evil dragon named Malefor and raised to do his bidding. For years, she spread fear throughout the land until she was defeated by Spyro the dragon and freed from the grip of Malefor. But dark powers still flow through her, and despite her desire to make amends for her past, most Skylanders try to keep a safe distance… just in case.