Crusher is an Earth Skylander and one of the eight Giants in Skylanders Giants.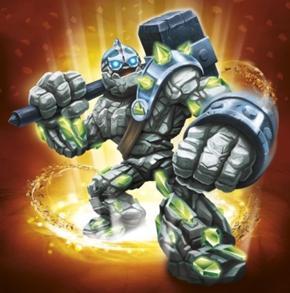 Biography
Edit
Crusher knew from the moment he put on his father's mining helmet that his true passion in life was crushing rocks. He was fascinated with rock-lore and traveled all throughout Skylands in search of rare minerals to pulverize with his powerful hand-crafted rock hammer, which is also named Crusher. But along his travels, he discovered that the evil Arkeyan King was also searching for rocks-to melt down into weapons of war. Crusher's fury built up like an avalanche. After all, crushing was his job! So he put aside his life's passion and decided to use his hammer for a greater purpose- crushing Arkeyan Robots.
Ad blocker interference detected!
Wikia is a free-to-use site that makes money from advertising. We have a modified experience for viewers using ad blockers

Wikia is not accessible if you've made further modifications. Remove the custom ad blocker rule(s) and the page will load as expected.