Camo is a plant/dragon  hybrid Skylander in Skylanders Spyro`s adventure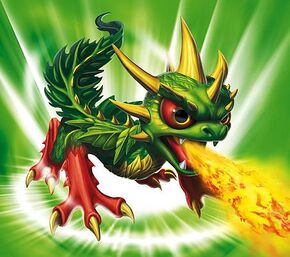 .
Biography
Edit
Hatched at the roots of the Tree of Life, Camo is half-dragon, half-plant – with effervescent life energy flowing through his scaly leaves. This power allows him to cultivate fruits and vegetables at a highly-accelerated rate, which causes them to explode when they ripen. Camo's unique gift caught the eye of Master Eon, initially because he was hungry and tried to eat a melon that exploded in his face. But upon realizing his true power, Eon convinced Camo to help the Skylanders protect their world.
Ad blocker interference detected!
Wikia is a free-to-use site that makes money from advertising. We have a modified experience for viewers using ad blockers

Wikia is not accessible if you've made further modifications. Remove the custom ad blocker rule(s) and the page will load as expected.