Boomer is a green troll Skylander who loves to blow stuff up.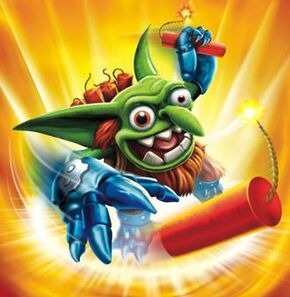 Biography
Edit
As a young troll, Boomer loved to blow things up -- particularly sheep. Later, he was drafted into the troll army, where they gave him LOTS of things to blow up. However, Boomer soon realized the sole mission of the army was war and conquest. Even though he was a troll, these things didn't interest him. So he left the trolls after saving a town from being destroyed by them. Not long after, he was invited to be a Skylander -- the only troll ever to win such an honor. Now he uses his explosive skills to fight evil... much to the relief of sheep everywhere.
Ad blocker interference detected!
Wikia is a free-to-use site that makes money from advertising. We have a modified experience for viewers using ad blockers

Wikia is not accessible if you've made further modifications. Remove the custom ad blocker rule(s) and the page will load as expected.