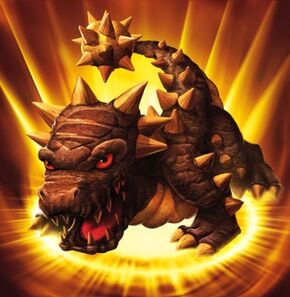 Bash is a rock dragon Skylander who first appeared in Skylanders spyro's adventure.
Biography
Edit
From an early age there was something that set Bash apart. He was a dragon without wings! But Bash wasn't content to sit around feeling sorry for himself. He would curl up into a tight ball and make a terrific take-off. His speed as he careered across the plains was something to behold - and the more he rolled, the rougher and tougher his skin became. Then the dark day came. A huge flying machine was catching Bash's dragon friends in massive nets. Fired up with fury, he curled up and chased it to the very edge of his floating island. There, Bash launched himself like a bouncing bomb and busted through the side of the airship, creating a colossal hole for his friends to escape through. Having witnessed the entire event through his portal, Master Eon was blown away by Bash's courage and loyalty and made him a Skylander on the spot.
Ad blocker interference detected!
Wikia is a free-to-use site that makes money from advertising. We have a modified experience for viewers using ad blockers

Wikia is not accessible if you've made further modifications. Remove the custom ad blocker rule(s) and the page will load as expected.